Risk Management
Risk Management plays an important role in the sustainability of all businesses
The Australian Tourism Industry Council (ATIC), with the support of EarthCheck have developed a range of resources to assist businesses in Disaster and Risk Management. These resources were designed to help businesses understand risks, along with strategies for readiness, response, recovery and prevention, all contributing to the development of business sustainability.
The resources available include;
Don't Risk It Manual
Don't Risk It– A guide to assist tourism businesses to prevent, respond and recover from a disaster was developed for the Australian Tourism Industry Council by EarthCheck.
The Don't Risk It manual is aimed to help tourism businesses identify potential risks that could impact their operations, reputation and bottom line. These risks can range from natural disasters, health and safety concerns, to socio-political issues. Through identifying these risks, businesses can take proactive measures to mitigate the impact.
The manual encourages businesses to regularly review and adapt their risk management based on changing circumstances and new insights. This ensures that businesses remain up to date and well-prepared to address emerging risks. Through understanding the process, businesses can develop a risk management plan that will aid in preventing, preparing, responding and recovering should a risk occur.
The manual serves as an available resource for tourism businesses of all sizes looking to thrive in adynamic and ever-changing industry while minimising risks and contributing to a more sustainable future.
Download your copy below to find out more.
Case Studies
Disaster can happen to anyone, below are stories shared from Australian businesses who have been impacted by events that affected business operations.
These stories share the importance of crisis management and how it helped their business respond quickly and recover effectively.
Personalised Risk Management Report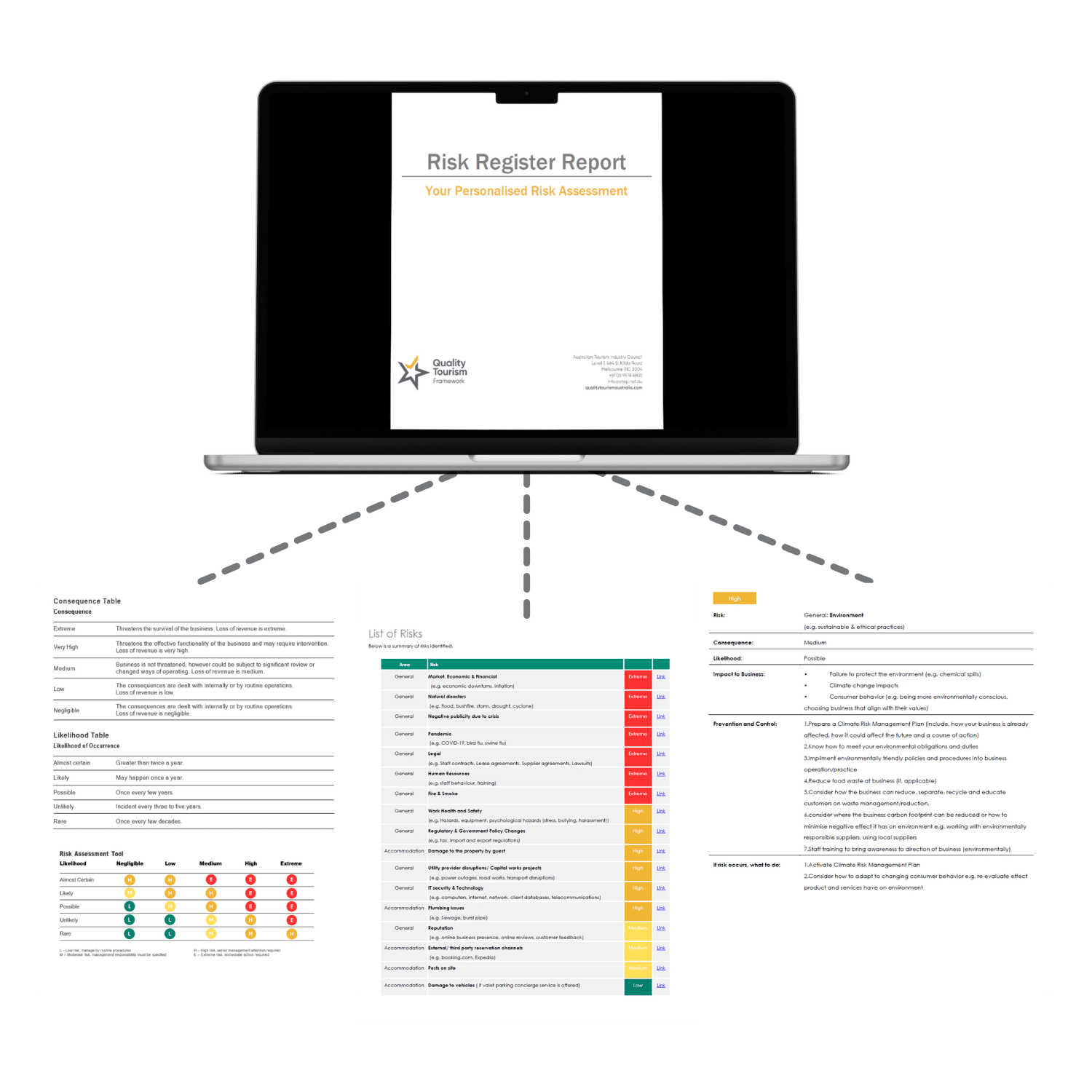 Personalised Risk Assessment Tool
Contemplating the various risks that may be associated with your business can seem daunting, especially if you are not familiar with the process and are unsure of where to start. ATIC have developed an online, easy-to-follow tool to help support you when developing your own Risk Management Plan for your business.
The Personalised Risk Assessment works in these simple, clear steps;
– Identifying Risks: Select potential risks prepopulated from within the database, which range from environmental factors to operational challenges that your business may face.
– Assessing Impact and Likelihood: The embedded risk assessment tool assists you by then analysing the potential impact and likelihood of each identified risk.
– Developing Mitigation Strategies: The system then generates strategies to minimise risks, outlining clear steps to be taken in various scenarios.
– Regular Review and Adaptation: The tourism landscape evolves, and so does the potential risks that goes with it. With your personalised risk assessment you can regularly review and update your risk management strategies to become more adaptable and stay ahead of potential challenges.
Contact your state or territory Program Manager to learn more about completing your personalised risk management report.
Prerequisites: Quality Tourism & Sustainable Tourism Accreditation
This project was made possible with the support of EarthCheck and received grant funding from the Australian Government